(S03E011) Previous Episode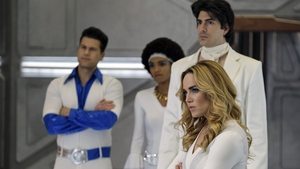 Aired On 2018-02-19
After the team returns from a mission, Zari finds herself trapped in a time loop that results in the Waverider blowing up over and over again. Zari soon begins to suspect that the answer to stop what is happening might lie hidden among her fellow shipmates' secrets. But in investigating them she starts to understand her place on the team.
Next Episode (S03E012)
Airs On 2018-02-26
When Sara decides to take some private time, the Legends pursue a lead on the whereabouts of the long-lost Earth Totem. Without Sara's knowledge, the Legends find themselves in 1717 to hunt for Blackbeard's long-lost treasure, but in true Legends fashion things go awry. Meanwhile, Ray feels guilty about something he has done and tries to make amends, which lands him in even bigger trouble.
When heroes alone are not enough ... the world needs legends. Having seen the future, one he will desperately try to prevent from happening, time-traveling rogue Rip Hunter is tasked with assembling a disparate group of both heroes and villains to confront an unstoppable threat — one in which not only is the planet at stake, but all of time itself. Can this ragtag team defeat an immortal threat unlike anything they have ever known?
Writing:
Andrew Kreisberg
Greg Berlanti
Marc Guggenheim
Stars: